Since November 1, 2022, CODDE department of LCIE Bureau Veritas has communicated the carbon footprint associated with its consulting service. The goal? Raise awareness among our teams and our customers about the environmental impact of digital technology. And allow all those who wish to set up responsible digital alternatives at home.
Digital pollution, what is it?
If the digital services sector is perceived as a sector of the immaterial, the multiplication of these services is not exempt from environmental impacts: multiplication of data centers, increase in the volume of data on mobile networks and fiber optics, planned obsolescence terminals, etc. According to MiNumEco, French Interministerial Mission for Eco-responsible Digital, digital technology is responsible for 2.1 to 3.9% of greenhouse gas emissions worldwide.
How does LCIE Bureau Veritas assess the carbon footprint of your study?
After 36 months of research, NegaOctet offers a method and tools to measure and reduce the environmental impact of digital services over their entire life cycle. In 2021, the EIME software was selected from 12 pilot cases to implement the NegaOctet methodology.
The carbon footprint of your study takes into account the following 4 elements:
EIME: This includes the equipment necessary for the development, hosting and maintenance of the EIME software, as well as the data exchanged on the Internet. We take into account the modeling and analysis time spent on your product.
Consultant's equipment: Required for the analysis of your products and the drafting of deliverables, the consultant's equipment is generally a laptop connected to 2 screens.
Digital exchange: Digital exchanges include emails (sending and storage) and videoconference meetings carried out as part of the mission.
Transport: If our mission includes some business trips, the means of transport taken by our consultants from the Bureau Veritas site to the place of the mission are included. In accordance with our environmental policy, we limit our trips and favor public transport.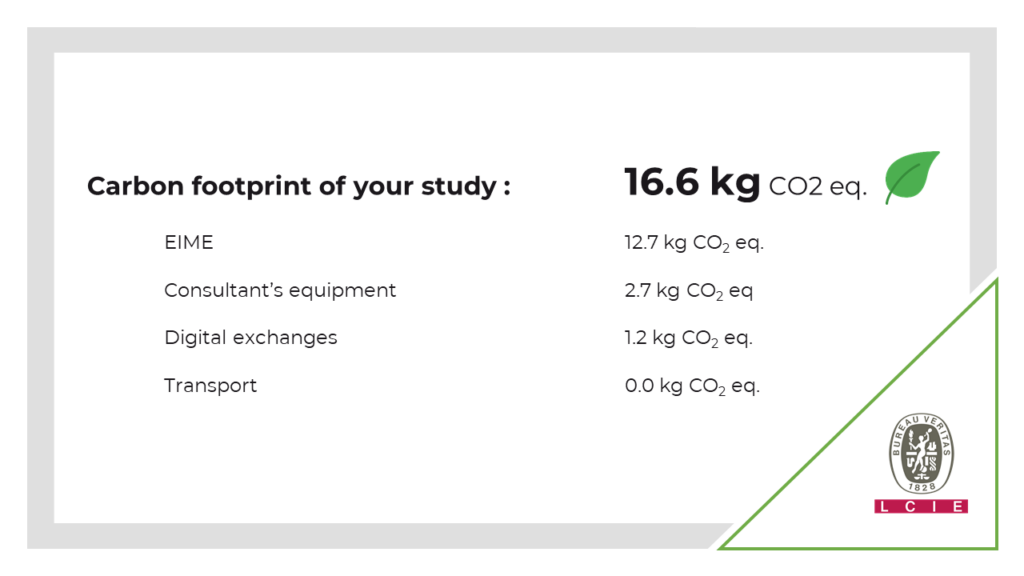 Based on the NegaOctet database, electronic equipment has been modeled with precision and detail. This includes in particular the servers used for the operation and hosting of EIME. The life cycle approach includes the manufacturing, distribution, use and end of life phases. Our calculations take into account many technical parameters such as: the energy efficiency of data centers; the weight of the emails and their storage duration; the number of videoconference participants and the quality of the video; etc.
The expertise of LCIE Bureau Veritas
CODDE department supports you in the eco-design of your digital services by carrying out the Life Cycle Analysis of your IT services, connected objects and digital applications. For more information, contact us.
November 2022