With more than 40 million products delivered in more than 50 countries each year, and several thousand employees around the world, Sagemcom is committed on a daily basis to its social and environmental responsibility, in a process of continuous improvement. In October 2020, Sagemcom obtained Bureau Veritas Footprint Progress® certification for the development of an internet box. Bureau Veritas and Sagemcom explain the reason for this success.
Sagemcom, committed to the development of eco-designed products
For more than 10 years, Sagemcom has carried out internal life cycle assessments in accordance with the ISO 14044 standard and the GHG protocol. These LCA studies are verified by an independent third party when they need to be communicated outside the company to guarantee results. These assessments allow us and our customers to guide design choices for future generations of products.
To identify areas for improvement of our products, we analyze the existing from a qualitative (assembly method, etc.) and quantitative point of view, by modeling the product lines with the EIME Life Cycle Analysis software, developed by LCIE Bureau Veritas. These analyzes guide our strategic development choices around reducing energy consumption. The use phase representing the most impactful phase in the life cycle of our products, regardless of the country of use.
« Ecodesign is a process in its own right, integrated into Sagemcom's project management. Each phase of a project, from launch, through design, qualification and production start-up, is subject to a series of controls that apply to the Ecodesign of the product. » explains Florian TREMBLAY, CSR Manager at Sagemcom.
Discover all of Sagemcom's commitments.
Bureau Veritas Footprint Progress®
Bureau Veritas Footprint Progress® certification offers any organization the possibility of communicating the improvement in the environmental performance of a product through an ecodesign strategy.
Bureau Veritas Footprint Progress® is based on best practices in the implementation of ecodesign: a life cycle approach and a quantification of the environmental impacts of the Product (s) / Product Family (s) are requested. As a result, the certification scheme is based on Life Cycle Analysis standards and Environmental Management System standards including design and development processes. As a certification body, Bureau Veritas guarantees the veracity of information to customers and stakeholders.
The certification audit carried out in 2020 by LCIE Bureau Veritas highlighted the robustness of Sagemcom's ecodesign process. « Sagemcom has a robust and efficient ecodesign process initiated in 2007. The audited product has a reduction of the environmental footprint of between -10% and -50% compared to the previous generation » explains Damien PRUNEL, auditor.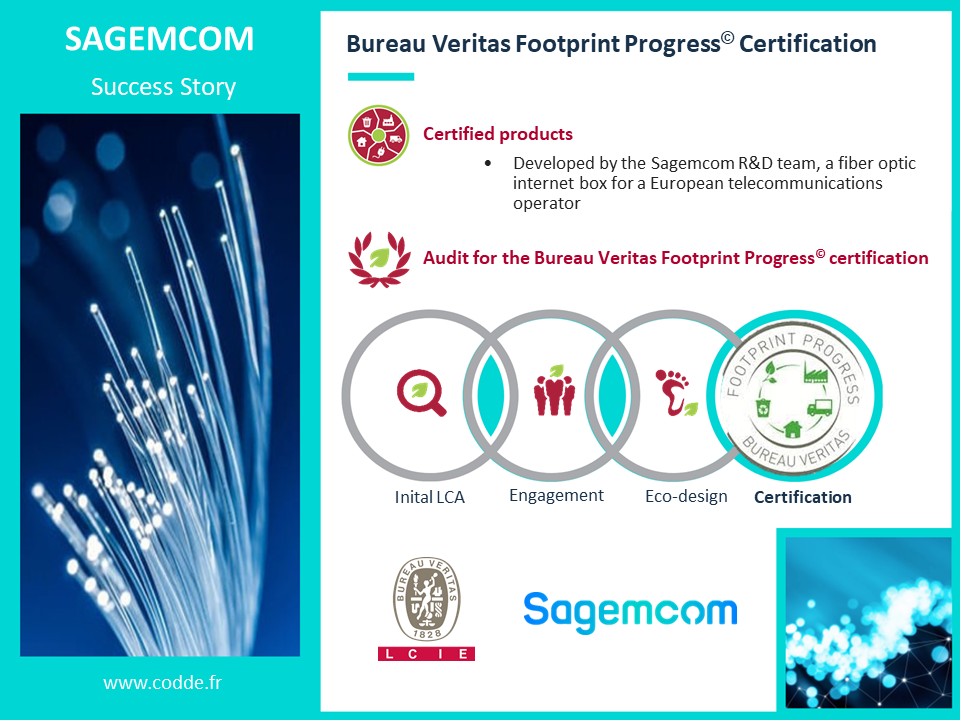 If you also want to ensure the relevance and enhance your eco-design approach through Bureau Veritas Footprint Progress® certification, contact us.
March 2021