CODDE realizes specific tools adapted to your needs
We realize for you tailor-made tools allowing a large-scale deployment of your approach.
Automation, simplification, creation of documents to your charter, ... we adapt to your specifications.
EXCEL TOOLS
Excel tool to automatically perform PEP on a basis of PLM tools extraction data. It is thus possible to generate PEP and accompanying reports in few hours.

From the 3 indicators of environmental labeling of a product, the tool calculates a final score for a very high number of reference at the same time.


To shorter the LCA time of execution, we developed suppliers data collection files  allowing to directly import this information into EIME. So LCA results are directly calculated.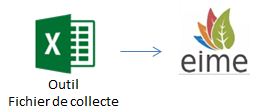 SPECIFIC WEB APPLICATIONS
All-in-one webtool dedicated to the management of the environmental labeling of consumer product; including the suppliers consultation process, validation of the data and the calculation of the final grade for each covered product category.
On-line 
data collection files
Manage the data collection from your suppliers on a single web platform
Sending application
Status management
Questions with adaptive tchat
Questionnaires based on product lines
Deadline management
LCA 

calculation tools
Calculation of LCA results for identified product categories
LCA results calculated thanks to a web-app idenpendantly from a specific LCA software
Choice of database (CODDE, ADEME, PEF …)
Evironnemental product labelling 

score
Environmental Rating by product within a category
Choice of relevant indicators
Choice of methodology for calculating final mark
Opportunity to export pdf results